Mikey update & pictures
Baby's name
Michael Kevin (Mikey)
Birth date & how old baby is now
12/09/06 12 weeks and 1 day
What is baby up to these days (sleeping, eating, etc.)?
Let's see, he is still drinking about 6oz every 2.5 to 3hours. He drinks 2oz and then burps (which he hates)
Sleeping wise, he goes to bed around 11pm, wakes back up every 2 hours. I am hoping that will change soon, since he will be 3 months. I was told they sleep longer once they hit 3 months, so will see.
He had a bath again tonight and he did not cry, yeah!
Any recent or upcoming appointments?
He had his apt. with the Gastroesophageal reflux on March 1st and that went well. They up his medicine and changed the kind. We may have to change his formula though. We will no by the 15th if we have to.
Milestones?
Let's see, he can hold his head up very well. He talk's up a storm and smiles big all the time. He loves toys and is liking his jumperoo too. (I hold him in it and help) He is growing so much everyday and advancing. I want to see him do so much but I don't want him to grow. He wakes up every morning with big smiles for both mommy and daddy.
Questions, comments, observations?
What age can they have baby food? I know he is to young right now.
Pictures:
</a>
A big grin
A Happy Mikey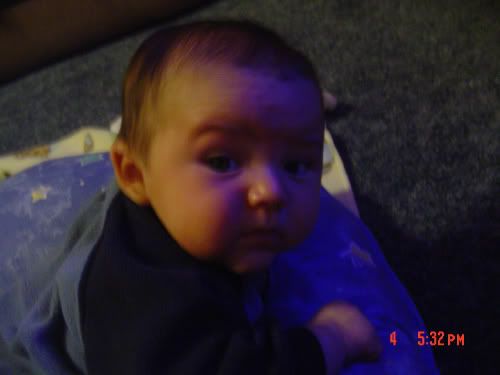 Hi Mom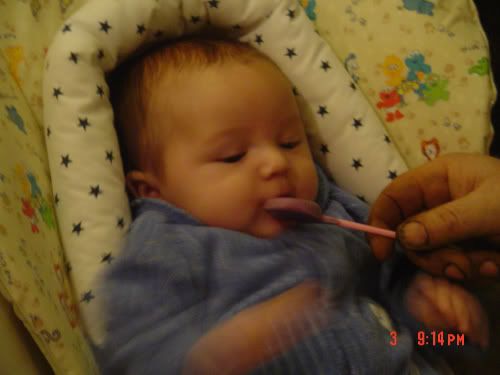 Yummy homemade candy
Give me more daddy
---